KR2 Series
Fully Thyristorised
MIG/MAG Welding System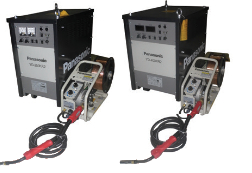 Synergic Mode (Unifi ed Mode) is available for easy setting of current and voltage.
Fresh tip treatment and burn-back time control are adjustable.
Secondary short circuit protection is a standard function.
Arc sensitivity is selectable by changing the tap of the reactor.
Crater current and crater voltage controls on front panel.
Crater Selection Switch, Gas Check Switch, Solid/FCW Selection Switch, Wire Diameter Selection Switch are available on the front panel.
Works on 50/60 Hz frequency in power supply.
GY3 Series
Fully Digital C02
MAG Welding Machine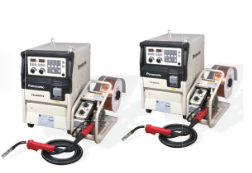 Facilitates consistently high quality welding
Stable welding performance across entire current range
Excellent quality even in low current range of 50-120 A
Stainless steel MIG welding mode
High-precision Full Digital Control ensures soft and stable arc
Wire Feed Motor with Encoder for high precision wire feed
RX1 Series
IGBT Digital+lnverter-controlled MIG/MAG Welding System with remote management controller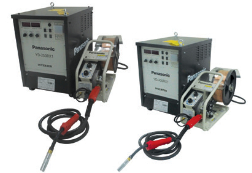 Inverter based digital wave control GMAW & FCAW welding outfit.
Higher Effi ciency & higher Power factor results in greater power saving.
Designed to work even under high ambient temperature of 50°C.
Unique design of three layer & four cabinet dust free structure.
Arc Wave form control for various applications.
Parameter Locking is possible.
Fresh tip treatment & burn back time control are adjustable.
GL3 Series
Full Digital Pulse MIG/MAGWelding System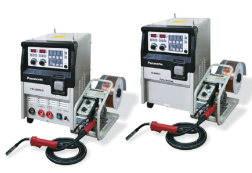 Nine parameters can be stored.
GL Pulse Controls method.
High-speed CPU monitoring in the output for faster response of the machine.
Synergic operation.
ROHS compliant.
Encoder wire feeder motor for better accuracy.
YD-200MW1
IGBT Controlled Portable DC Arc Welding Machine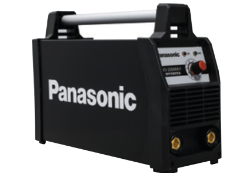 Single Phase, 230 Volts.
IP 23S Protection makes it suitable for outdoor use.
50% Duty cycle for higher performance with 4.0 mm electrode.
Light Weight only 8.5 Kg.
Can be used up to 4.0 mm Electrode.
AT3DJV/DJR Series
GBT Inverter-controlled DC Arc Welding System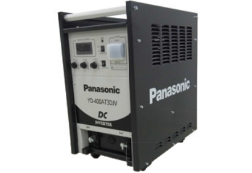 IGBT-controlled method offers a light and compact machine and PWM- controlled technology offers constant welding current and stable welding characteristics.
Suitable for all kind of acid, basic stainless steel, cellulosic and low hydrogen alloy electrodes.
High ambient temperature resistance up to 50°C for 400AT3 and up to 40°C for 630AT3 machines.
Unique design of three layer and four room dust-free structure.
Rugged and robust construction suitable for operation in rough environments.
Excellent on-site service and technical support.
SS3 Series
Thyristor-controlled DC Arc Welding System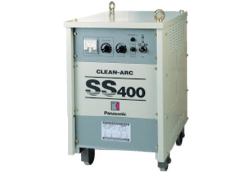 Quality welding Even at cable length of 100 meters.
Adjustable Arc force control
Suitable for MMAW & Scratch TIG.
Gauging is possible with 630SS3 Model.
Over voltage, under voltage, Single phase protection
TX3 - WY4
IGBT Controlled Pulsed TIG Welding System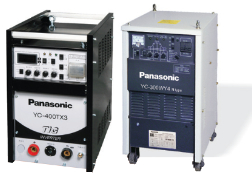 Suitable across various industrial applications including petrochemical, engineering, power generation, and manufacture of pressure containers and stainless steel products.
Ideal for diverse welding needs.
Stable welding at 4 Amps output current.
User-friendly Operator Panel.
Excellent manual welding performance.
High reliability even in rugged environments.
Facilitates quick assembly and easy replacement.
TSP-WP
Thyristor-controlled TIG Welding System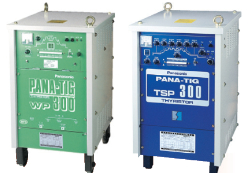 Multiple functions suitable for multiple applications.
Superior cost performance.
Widely used across various fi elds like petrochemicals, pressure vessels, electric power construction and stainless steel products.
Consistently high quality welding from start to fi nish.
Better arc stability ensures higher quality.
Wide range of cleaning width adjustments.
Useful design oriented to meet customers' needs.
High success ratio of successful arc start even at low currents.