danfos MOBILE
CONTROL VALVES

PVG Load Independent Spool Valves
Our PVEs - Valve Control Made Easy
Advanced electronic control can be achieved with our robust PVE Series 4 actuators, which ensure fast operation, a high level of safety and effective fault monitoring. Our leading actuator technology makes valve solutions with countless control options.
Our PVG valves are PLUS+1™ Compliant – and ideally suited to today's trend towards intelligent control systems.
SD Product
Max Flow
Per Section
l/min [gal/min]
Max Pressure
bar [psi]
PVG 32
130 [34]
350 [5,075]
PVG 100
180 [48]
350 [5,075]
PVG 120
240 [63.4]
400 [5,800]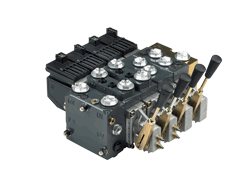 Features and Benefits
PLUS+1 Compliant for full plug and perform capability.
Maximum resistance to water and humidity, integrated connectors and enhanced electromagnetic compatibility, protecting against external interference up to 100 volts/meter
Closed loop feedback for precise spool control.
Fault monitoring, supervising valve operation and compensating for system-induced flow forces.
CAN communication possible for advanced digital control.