System Saver - Single Vane Pump
Utilizes standard catalogued hydraulic components. Assembly of a complete system on the pump, without pipe or manifold block with bolt on valves.The evident saving of space and cost is completed in addition by a best response of relief and unloading valves,due to the very small oil volume compressed between valves and pumps.
Features:
Compactness
Leak-free system
Overall cost reduction
Standard components
A 'ready-to-install' product
Pre-assembled integrated functions
READY TO INSTALL:
Standard components in any package are pre-tested to their full performance specifications.
REDUCED OVERALL INSTALLATION COSTS:
Easy specification of required sub system along with quick assembly and no charge for mounting hardware, combine to make the "System Saver" very cost-effective.
DESIGN FLEXIBILITY:
Allows you to combine any selection of the pressure relief and unloading valves (with manual or electrical) with any combination of single, double & triple high performance vane pumps.
Veljan \ Hydraulic Power Packs & Manifolds ::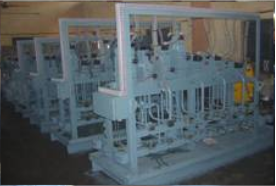 Design and manufacture of Hydraulic Power Packs and Manifolds as per requirements of customers. Specialised in supply of high pressure systems for Steel Mills, Sugar Industry, Textile Machinery, Material Handling, Food Processing etc.